WOW! I have been blown away by the response to the We Can Do It! Skill Builder Sampler. You guys ROCK. I really meant to respond to every comment, but life and kids are preventing that. Just know that I appreciate all of your comments and all of your blog posts spreading the word about the sampler. I am getting quite a bit of traffic from all sorts of sources and it is thanks to all of you!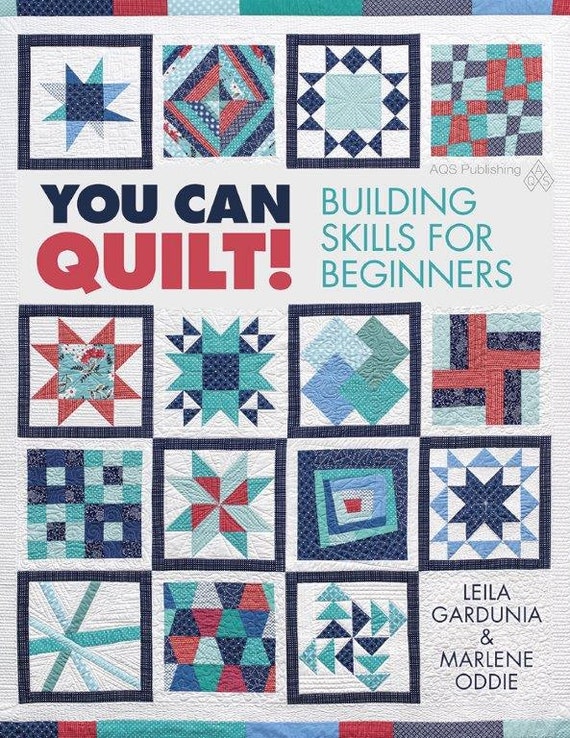 Edited (5/15):
The Skill Builder Sampler will is available for purchase in book form! It has been renamed "You Can Quilt! Building Skills for Beginners" but covers the same skills with the easy, medium and challenging blocks and is a million times better than the
original
quilt along. It is perfect for the
beginning
quilter or the experienced quilter who wants to branch out and learn new skills. Find more information and order a signed copy in my Etsy shop or order on Amazon
. Because of the release of the book some posts have been removed.
............
I thought I would address some of the more common questions:
Yes, in the next two weeks before our first block, I will post more on fabric prep and cutting.
I will also post a list of additional items you will need (cutting mat, rotary cutter etc.)
Yes, I will explain quilting terms in detail as we go along.
I will show you how to join the blocks together, quilt and bind at the end of the quilt along - I won't leave you hanging with a bunch of blocks. :)
How to join? Just show up here every Friday and see what block we are making and during the week make your own block. I started a group on flickr so we could share pictures of our finished blocks. It is: http://www.flickr.com/groups/wecandoitskillbuildersampler/. I would love to see what you make! Please stop on by.
I don't know if I can/want to make every block. Not a problem. Make what blocks you can - life happens, and you might already feel comfortable making certain blocks. Don't Not make a block because you are scared or don't like the style. You can do it! Worse case scenario, it is horrible and you leave it out of the quilt. But you have got to try. You might find out that you love making that type of block. This sampler is all about skill building and trying new things.
As an incentive to finish your blocks, at the end of each month we will have a giveaway. You will get one entry for each block you have completed that month and the winner will be selected at random. I am all about incentives and prizes. :) I am hoping to have a HUGE sponsored giveaway at the end for everyone who has competed all of the blocks.
How can I be sure to get the Skill Builder posts? You can click on the sidebar to become a follower and my posts will show up in you google reader. Or you can have all of my posts emailed to you. Just enter your email address in the Follow by Email box on the top of the sidebar. Also, if you look right under the title banner there are a series of links

[Home Tutorials Crazy Quilt Along Skill Builder Sampler]

If you click on Skill Builder Sampler it will take you to a page with links to all of the Skill Builder posts.
What kind of blocks will we be making? Here are 20 of the 36 we will make. They aren't in any real order. Shown are the curves, improvisational/wonky blocks, half square triangles, quarter square triangles, flying geese and the first paper pieced block. Hopefully, this will give you an idea of where we are going and what fabrics you might want to use. If you haven't seen it yet, here is the post on fabric recommendations.
Are there any questions that I missed? Let me know.
Now to the giveaway winners!
Comment 154 and comment 120 were selected with the Random Number Generator (I still haven't figured out how to copy the little screen for proof, so you will just have to trust me on this one.) The winners are....
Melinda said...
Blogged about it!
In an earlier comment, Melinda said,
"Love it! The Japanese print; I have a friend who is Japanese whose wife is due in November. This would be PERFECT!"
so she will be receiving the Japanese prints.
And last but not least... for the very last month or as a bonus month catherail windows would be a great skill builder.
I will be joining in! Maybe not all of it but I will join in on it.
As for the fabric choice. It is a toss up for me. I love them both!
Thanks a bunch!
Jennifer will be receiving the Denyse Schmidt fabrics.
I have emailed them both to let them know.
Thanks again for playing and helping to spread the word!