On June 17th I am going to be kicking off the "We Can Do It! Skill Builder Sampler." You can just call it the Skill Builder Sampler or SBS if you want. :) Some of the recent blogland talk got me thinking about things that I want to try out in my quilting. I realized I was just a bit scared and nervous about trying new things. It is always easier to try something new with a friend and so I hope we can all work through this sampler quilt together. Each month I will focus on a different quilting skill and provide tutorials for three 12 inch quilt blocks using the month's skill. Some of the skills you might already have – please, leave any advice or additional tips in the comments for us – but I know there will be something for everyone to learn.
I have designed this sampler so that a beginning quilter can easily move from block to block and build their quilting skills. The beginning blocks will review basic skills and concepts that can be applied to any quilt. I will liberally reference other blogs and tutorials which have already described and explained the techniques and skills we will be learning.
Here is the outline for Skill Builder Sampler:
June:
Skills: Cutting, ¼ inch seam allowance and value.
Blocks: Log Cabin and Around the World
July: Half Square Triangles and Quarter Square Triangles
August: Flying Geese
September: Wonky Blocks
October: Foundation Piecing
November: Paper Piecing
December: Raw Edge and Needle Turn Applique
January: Curves
February: Improvisational Blocks
March: Working with odd shapes (tumblers, hexagons, apple cores)
April: Inset Seams
May: "There's no way I can sew that block!!!" - but you totally can because we now have the Skillz.
(we will also learn how to draft and use templates - those skill will be used in multiple months)


The first three weeks of each month we will make blocks based on that set of skills and the forth week will be a catch up week. Everyone who is caught up at the end of the month will be entered in a drawing for a special prize. (Probably fabric, because everyone Loves fabric, right?)
By the end of the year you will have 36 twelve inch blocks you can make into a queen sized quilt or you can divide them up and make several smaller quilts. But more importantly, you will have the skills and the confidence to tackle any quilting project you can dream up. Priceless.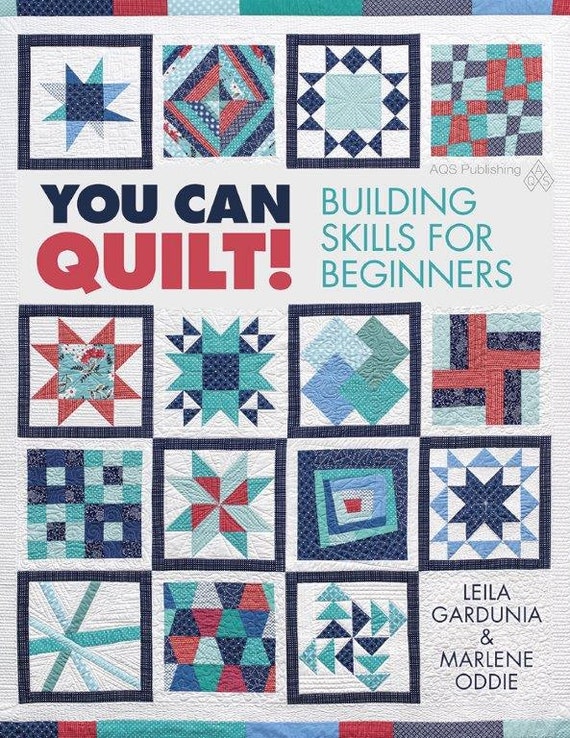 Edited (5/15):
The Skill Builder Sampler will is available for purchase in book form! It has been renamed "You Can Quilt! Building Skills for Beginners" but covers the same skills with the easy, medium and challenging blocks and is a million times better than the
original
quilt along. It is perfect for the
beginning
quilter or the experienced quilter who wants to branch out and learn new skills. Find more information and order a signed copy in my Etsy shop or order on Amazon
. Because of the release of the book some posts have been removed.
............
For this to work, I need your help. Doing new things is fun and easy with friends, but truth be told, I don't have a million and one online friends. Truth is, not everyone will want to participate in this Skill Builder Sampler. That's ok, but I want everyone to be able to check it out and decided if it is right for them.
Could you help me get the word out? I'll bribe you.... :) I have two fat quarter stacks of fabric just waiting to go to a good home. One of Denyse Schmit's new line of fabric and a stack of Japanese fairy tale prints.
For a chance to win:
Leave a comment. Any advice, block suggestions or skills I am missing would be great. Oh, and tell me which fabric pack you will like.

Blog about The Skill Builder Sampler, connect back here and leave a second comment telling me you did.

Put the "We Can Do It" button on your sidebar and leave a comment telling me you did.


Three chances to win! Please leave a separate comment for each entry. I will close the drawing and announce the two winners on June 1
st
. Thanks for helping spread the word! We Can Do It!
Edited
: I have posted fabric requirements
here
.
Edited:
Sorry this post disappeared for awhile - it is back! The giveaway is now closed, but keep spreading the word and get ready for our first block on June 17th!