I have had quite a few questions about how much fabric will be required for this sampler. In general, I find that it takes a bit less than a fat quarter's worth of fabric to make a 12 inch block. 36 blocks times 1/4 yard gives us 8-9 yards of fabric for the blocks.
If you are not sure if you will make every block, I would buy less yardage upfront and purchase more as the year progresses. Make sure the fabrics you buy are ones that will be available later if you want your quilt to be highly coordinated.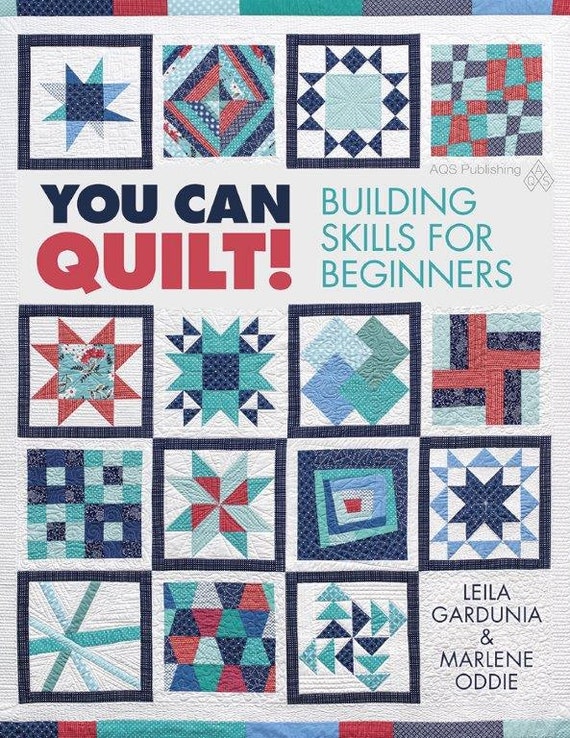 Edited (5/15):
The Skill Builder Sampler will is available for purchase in book form! It has been renamed "You Can Quilt! Building Skills for Beginners" but covers the same skills with the easy, medium and challenging blocks and is a million times better than the
original
quilt along. It is perfect for the
beginning
quilter or the experienced quilter who wants to branch out and learn new skills. Find more information and order a signed copy in my Etsy shop or order on Amazon
. Because of the release of the book some posts have been removed.
............
What to Buy:
Sampler quilts come in all shapes and sizes and color choice plays a HUGE role in how the finished quilt will look.
You could choose to have your quilt be monochromatic like
this
,
this
or
this
one. Notice how they still have light, medium and dark tones of the single color of fabric. Including different tones of fabric will make the block patterns visible and interesting.
Your quilt could be made up of just a few prints like
this
or out of many different fabrics like
this
one. Both ways result in beautiful quilts - the choice is yours. I personally like to have a lot of different fabrics in my quilts - kind of a coordinated scrappy look.
When planning your fabric choices think about what you would like to use as a "background" fabric. I will be using white, because I am boring and like white, but background fabric can really be any color. In general, it is easiest to choose additional print colors and really make your blocks pop when you have a lighter background color. (This is not a hard and fast rule: note the popularity and effectiveness of
dark gray
as a background color.) Your background does not have to be solid. It could have a small tone on tone print or polka dots even.
Here are some examples of different background choices:
These quilters chose to have a white background fabric.
Here
,
here
and
here
.
These quilters chose dark background fabric.
Here
and
here
.
This quilter chose
yellow
.
You might choose to do a mix of backgrounds like
these
quilters
.
You might choose not to have any particular background color.
These
quilts
are excellent examples of that.
If you choose to have a set background color I would buy 3-4 yards of it and the additional 5 yards of fabric in a variety of colors. If you want a coordinated scrappy look, fat quarters (a piece of fabric measuring 18x22 instead of 9x44) are a good choice for this project. Be sure to choose light, medium and dark tones.
How can you tell if something is dark, medium or light? You can either photocopy swatches of the fabric so you can see them in black and white or take a picture of your fabric. In the photo editing tools, you can view the picture of your fabric in black and white. Let me show you the fabric I will be using.
I have chosen a range of rainbow colored fabrics and a white background. (Yeah, that bottom corner is suppose to be bright white, I don't know what happened.)
Here is my picture in black and white. Notice the reds all read as the same dark color. If I was doing a monochromatic red quilt I would need to find some different tones of red to add to the mix. Notice how the orange and greens have the same value. There are quite a few light and medium tones in the middle, but the darker toned reds, blues and purples balance them out. Overall, I would say I have a pretty good mix of tones.
I went fabric shopping last week to add some purples to the mix.
When picking them out I tried to make sure they had the same feel as the other fabrics and also that I had a light, medium and dark. Let's see how I did.
There is a good contrast of value between these prints and I could make an all purple block if I wanted and would still be able to see the block pattern. If I tried that with my reds, the different sections of the block would merge together and look "muddy".
Another thing to keep in mind is scale. If a print is very large and multicolored it can make seeing the overall design of the block hard. There will be places in this sampler where large prints would look great, but please don't purchase
all
large prints.
Here are some additional great posts on fabric and color from
The Skill Builder Series
and
Quilting 101
:
Basic Info on Fabric and Precuts
Color and Value
Buying for a project
The use of neutrals
I highly recommend reading them when you have a chance.
I would love to see what fabric you choose to use for this project. I have started a
group
on flickr for the Sampler. For those of you not familiar with
flickr
, it is a photo sharing site. You can join for free and upload pictures from your computer into your photostream. You can then share those photos with different groups.
Here is the address of our group:
http://www.flickr.com/groups/wecandoitskillbuildersampler/
I have also added a gadget above the We Can Do It! button. If you are not a total blog addict like me and want to make sure you don't miss any Skill Builder posts, you can enter your email address and
all
of my blog posts (not just the Sampler ones) will go to your inbox.
I will be posting tutorials for the blocks Friday mornings starting June 17th. Between now and then I will write a few more posts on additional supplies you might need and basic cutting and quilting skills to know.
Thanks for joining in! I can't wait to get started.